Don't Worry, Our Clothing Store POS Solution Include Everything You Need
Free Consultation
Products Upload
Set Up, User Training
Friendly Customer Services
Custom Website and Maintenance
POSApt offers quick and easy set-up so clothing stores like yours have minimal downtime. You don't have to worry about a thing even if you're unfamiliar with how POS systems work. We'll set everything up for you with all the features your shop needs and will give you comprehensive training on how our system works.
Boost Sales with Our Clothing & Apparel Store POS System
Whether you have a clothing retail, a boutique or an apparel store, running a clothing business can be complicated. It gets even more complicated if you have many stores or a mix of online and physical sales.
What you really need is a reliable system that can easily handle all your business tasks, even during busy times. That's where our Clothing Store POS System from POSApt comes in. It's designed to make things simple, even when lots of people are shopping. It helps bring order to the ever-changing fashion world.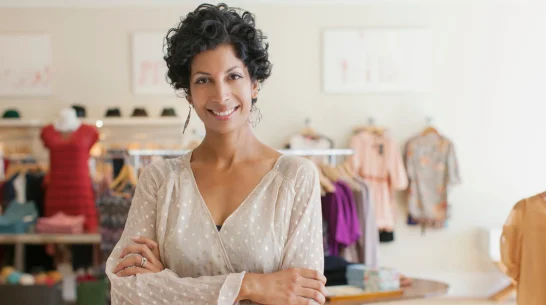 Embark on a new era of fashion retail. From a seamless operational tapestry to elevated customer encounters, we stand prepared to arm your fashion enterprise with unparalleled empowerment. Take the stage – catalyze your journey with our 30-day trial and embrace the future of fashion retail management today.
Solving Australian POS Needs
for Clothing Stores
Elevate the elegance of your clothing store with POSApt. From trend-conscious inventory management to the seamless coordination of multi-location setups, we're poised to redefine the landscape of fashion business management.

Extensive Inventory Management
POSApt offers comprehensive inventory management tools, allowing you to track and organise your clothing items, sizes, & colours effortlessly.

Loyalty Point System
Reward your frequent shoppers with discounts, special offers, and personalised promotions to keep them coming back with our loyalty point feature

Integration E-commerce Platform
Effortlessly synchronise your online and in-store inventory with our integrated e-commerce platform. Easy physical & digital sales.

Analyse Your Sales in Real-Time
Access real-time data of your clothing store on KPIs like top-selling clothing items, seasonal trends, and daily sales reports.

Stock Level Notification
Receive notifications when your popular clothing items are going out of stock so that you can restock them.

Multiple Payment Options
Whether your customers prefer to pay via cash or credit cards, we swiftly and securely accept payments directly through our POS System.
User Friendly Integrated
E-Commerce System for Clothing Store POS
E-Commerce can streamline the order fulfilment process, reducing the likelihood of errors and improving efficiency. This can lead to quicker order processing and improved customer satisfaction.

Integration with Xero
Manage your online and physical clothing store accounts directly from our POS system with the help of our direct integration with Xero

Multi-Language Support
If English is not your primary language, simply choose one that's easier for you from our collection of languages and use POSApt in your native languag

Direct Integration with POS
Eliminate the need to re-upload your products into the database as our Ecommerce seamlessly pulls data directly from your POS system.
5 Reasons How You Can Grow
Your Business with Our
Clothing & Apparel POS System
1
Level Up Your Fashion Business
Imagine a world where keeping track of your clothes in the store is as easy as draping fabric smoothly. With our Clothing POS software, you can manage your clothes like an expert stylist. Easily find each piece of clothing and get notified when things are running low with easy inventory management. Every item you sell, you make money and our system makes sure you don't miss anything.
2
Round-the-Clock Customer Support at $0
Problems can happen anytime, even in a fashion store. Our support team is always ready to help you succeed, 24/7. Whether you have questions about features, need technical help, or want advice, our experts are just a call away. We promise to make sure your journey to success is always on track. And unlike other POS providers, we don't even charge you for this support service.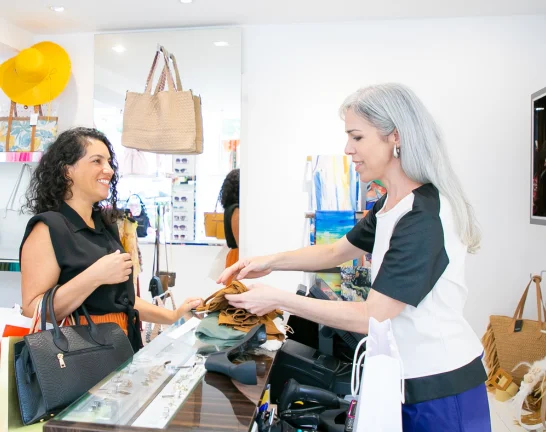 3
Try Our POSApt for 30 Days at $0
Try out POSApt for absolutely free with our 30-day trial. We believe in the positive change our system can bring. Explore all the features designed to make your clothing shop better. During this risk-free time, you can explore what our system can do and decide if it fits your business needs. No commitments are required!
4
Upgrade Without Losing What You Have
Upgrading to a new POS system doesn't mean you have to give up your old equipment. POSApt makes it easy to use our software with your current systems. You won't need to spend extra money on hardware that you already own. Our system also integrates with other 3rd party software solutions like Xero
5
Elegance in Versatility, Chic in Adaptability
Our system works on multiple devices, just like fashion fits different lifestyles. Use it on a computer, laptop, tablet, or smartphone. This flexibility lets you access important info and do transactions from anywhere. It's designed to make your customers happy and work well in any location.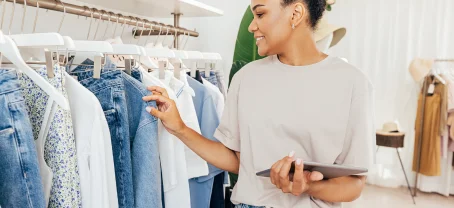 Frequently Asked Questions?
A POS system with both hardware and software to optimise and streamline the operations of a clothing shop is what a clothing store POS system really is. It empowers you to efficiently handle tasks such as processing sales, managing inventory, and accepting payments.
POSApt is incredibly user-friendly and even a novice can easily navigate their way to using it. On top of that, we also provide free hands-on training during the setup process to ensure you're comfortable with the software.
POSApt is the most ideal choice for a clothing store. It is feature-rich, designed to meet the unique needs of small clothing stores and comes at a relatively affordable price.
Our basic plan starts at just $66 per month, which includes all the essential features required to efficiently manage your clothing store. View our complete
pricing plan
to learn more.
We have our own e-commerce store that seamlessly integrates with the POS system, allowing you to sell both online and on-site effortlessly. Our dedicated technical support team will handle the integration process on your behalf so you won't need to worry about doing it yourself.