Don't Worry, Our Bike Shop POS Solution Include Everything You Need
Free Consultation
Products Upload
Set Up, User Training
Friendly Customer Services
Custom Website and Maintenance
Much like how you set up everything for a customer who's looking to purchase their first bike with them, we do the same for you. Our POS and E-commerce system is easy to navigate through and includes all the features you need to manage your shop efficiently. From keeping tabs on your mechanical parts in the inventory to swiftly accepting payments from all customers, POSApt can do it all.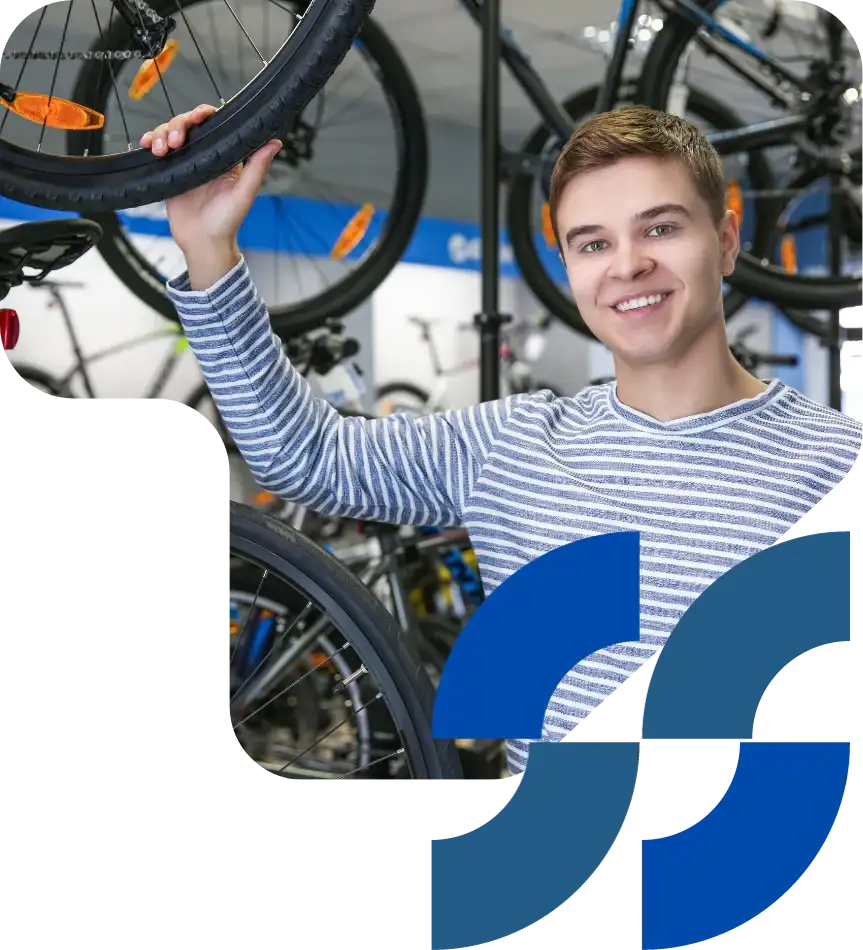 An Advanced POS Solution for Bike & Bicycle Shop
Navigating the intricate world of bike and bicycle retail can be a tough challenge. Whether you're in the bike repair business or in the bicycle selling business, managing point-of-sale operations can be difficult. Especially when you are available in multiple locations or are selling from both online and offline stores.
What you need is a reliable system capable of managing all your business operations without failure. And no matter how busy it gets, your system should always be ready to handle your transactions fluidly. That's where our robust POS system steps in, ready to untangle the web of complexities and streamline business processes.
Elevate your bike or bicycle shop's performance and customer satisfaction with our POS System. With features such as advanced inventory control and fast payment processing, you will be steering your business into profits every day. Kickstart your 30-day free trial today!
Solving Australian POS Needs for
Bike & Bicycle Shops
Gear up to transform how you manage your bike or bicycle shop. From pedalling through inventory control to cruising with multi-location support, we're bringing a feature-rich POS system to your shop.

Easy Product Customisations
Enlist all the different types of bike and bicycle parts in your store and make customisations as necessary to keep up with newer trends.

Stock Level Notification
Get instant notifications when any specific bike part in your inventory is either running out of stock or is overstocking.

Fast Payment Processing
Shorten customer wait times with our lightning-fast payment processing that accepts credit cards, debit cards, gift cards and cash.

Gift Cards
Allow your customers to surprise their friends and loved ones with gift cards that they can use to redeem bikes or bicycles from your store.

Integration with Xero
Have the power to manage your store's accounting tasks from the POS system itself thanks to our direct integration with Xero.

Split Payments
Make it possible to accept payment from multiple customers for a single bill from any payment method with our split payments feature.
User Friendly Integrated
E-Commerce System for Bike Shop
Selling online can be tough, particularly for bike and bicycle shops because of all the intricate parts that go with it. However, POSApt's E-commerce system for Bike Shops makes it super easy to sell.

Real-Time Updates
Track the performance of both online and physical stores directly from our system in real-time and view KPIs directly on the dashboard.

Multiple Payment Options
Accept payments from your customers any way they prefer whether it's cash or credit cards directly through the POS System.

Dedicated Android App
Use our dedicated Android app to check the performance of your store anytime and from anywhere around the world.
6 Reasons How You Can Grow Your Business with Our
Bike Shop POS System
1
24/7 Dedicated Support
At POSApt, we recognize that challenges can arise at any hour. Our commitment to your success doesn't clock out, which is why our dedicated support team is available round-the-clock. Whether you have questions, encounter technical issues, or seek guidance, our experts are just a call away. Your journey toward operational excellence is our top priority. Our support crew is here to ensure you keep pedalling ahead without any roadblocks.
2
Legacy Hardware Support
Getting a new POS system shouldn't mean you have to discard all of your existing hardware items. With POSApt, you can seamlessly integrate our solution with your legacy hardware systems. No need to worry about additional expenses or disruptions caused by hardware replacements. Our POS system's compatibility ensures a smooth transition, allowing you to continue using your trusted equipment.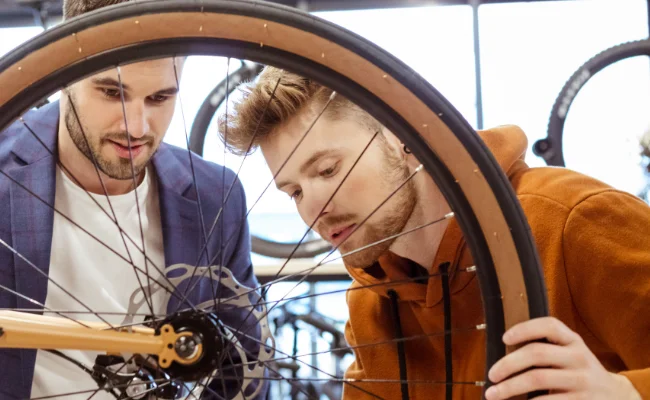 3
Multi-Location Support
Expand your bike or bicycle empire across Australia without having to worry about changing your POS system. POSApt seamlessly integrates with all your branches for centralised management. Control inventory, sales, customer data and more across all your shop locations from one robust app
4
Robust Hardware
Our POS system is designed to withstand the demands of a busy bike shop. With durable hardware that includes touchscreen interfaces, barcode scanners, and receipt printers, our POS solution keeps your operations running smoothly.
5
Works on Multiple Platforms
Just as mountain bikes adapt to various terrains, our POS system thrives across multiple platforms. Whether you're managing your shop from a laptop, tablet, or smartphone, our solution ensures a consistent and user-friendly experience. This adaptability guarantees that you can access essential data and perform transactions whenever you like.
6
Inventory Control
Manage your inventory like a pro-rider with POSApt's Bike shop POS software. Accurately keep track of all items in your stock and set up automatic notifications wherever an item is running low. This makes sure that the shelves in your bike store are optimised for maximum sales.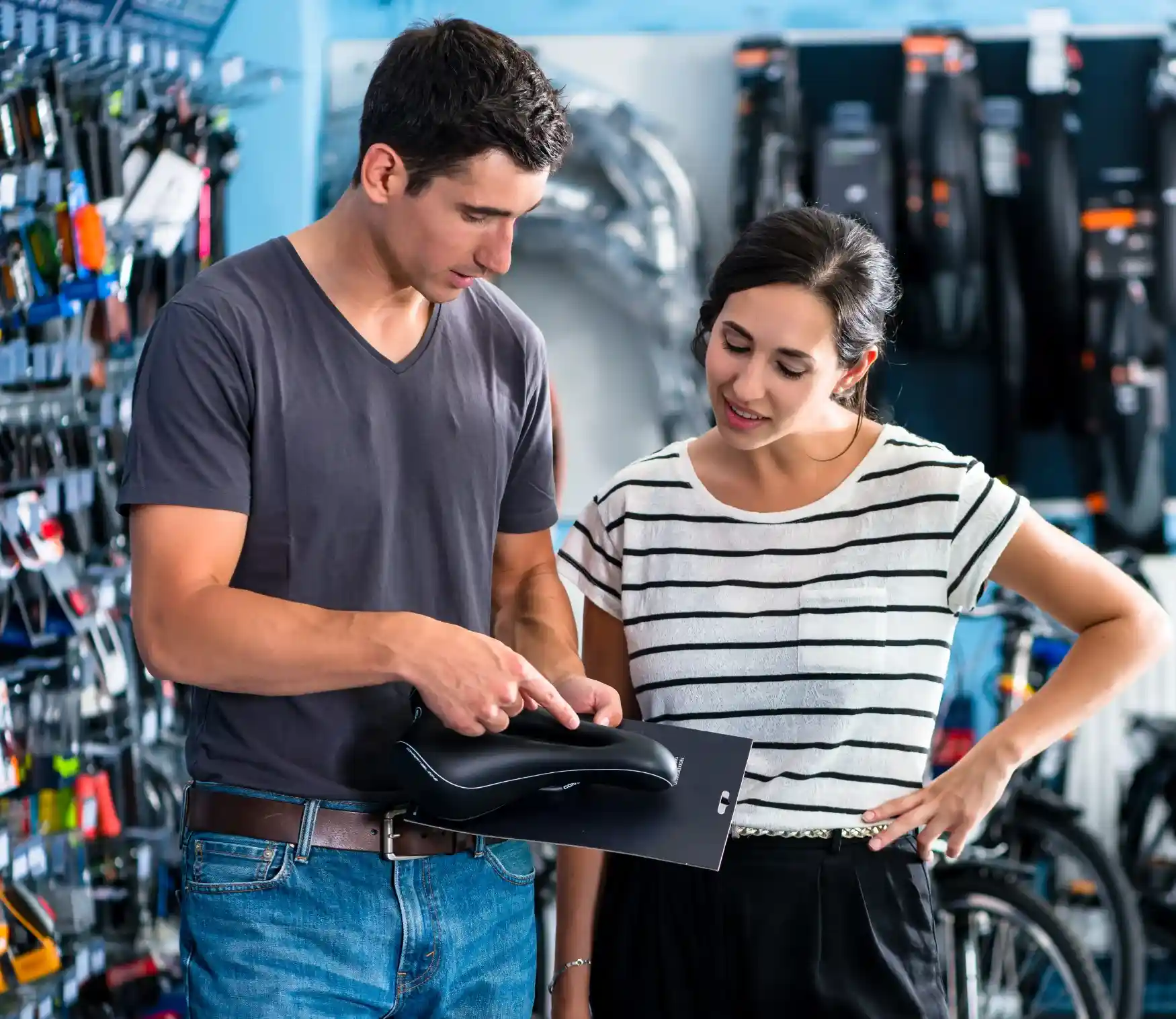 Frequently Asked Questions?
A POS system for a bike shop is a comprehensive solution that combines hardware and software to streamline the operations of your store. It facilitates tasks such as processing sales, managing inventory, and accepting payments.
It is super easy to operate POSApt as the software is user-friendly and we also provide free hands-on training during the time of setup.
POSApt is the best POS system for bike and bicycle shops. We offer a feature-rich POS system specifically designed to cater to the needs of your shop. Our system encompasses all the functionalities of popular options and more, all at competitive prices.
We offer a basic plan starting at just $66 per month, which includes all the essential features required for efficiently managing your bike shop. For detailed pricing information, please refer to our complete
pricing plan
.
POSApt has its own e-commerce that you can seamlessly integrate with your POS system to sell online. Once you have acquired both the POS system and the e-commerce system, our technical support team will handle the integration process for you. You won't need to worry about doing it yourself; we'll ensure a seamless integration between the two systems.