POSApt's
Tablet POS System for Australian Businesses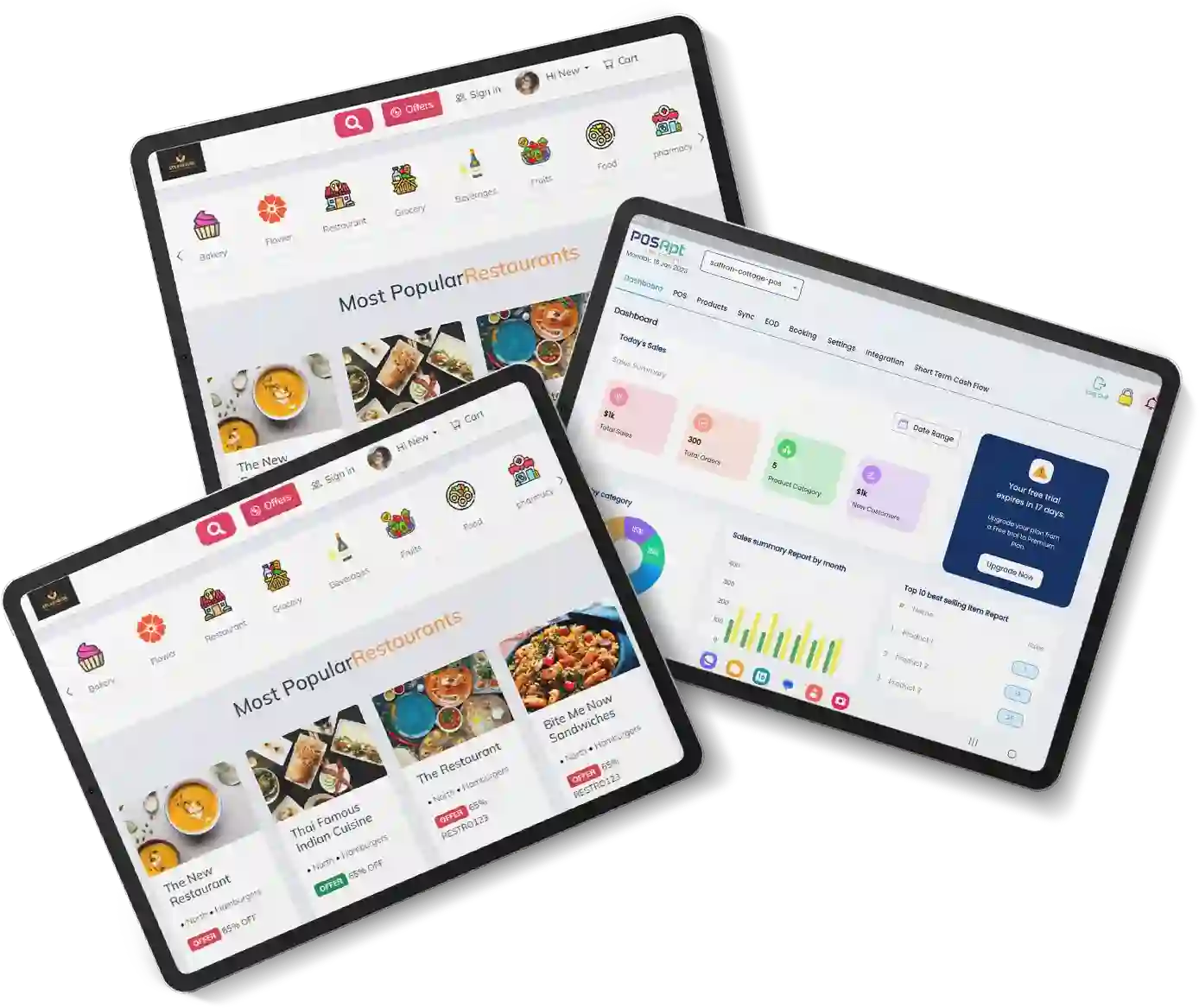 Connect all your branches with POSApt.
Tablet POS Streamlines Your Business
Increased Mobility
Cost-Effective
Better Customer Engagement
It is time to convert your simple tablet into a powerful point-of-sale (POS) system with POSApt. Perfect for any Android tablet to automate your business processes. Expect faster transactions, error-free data entry, seamless inventory management, higher profits and happier customers.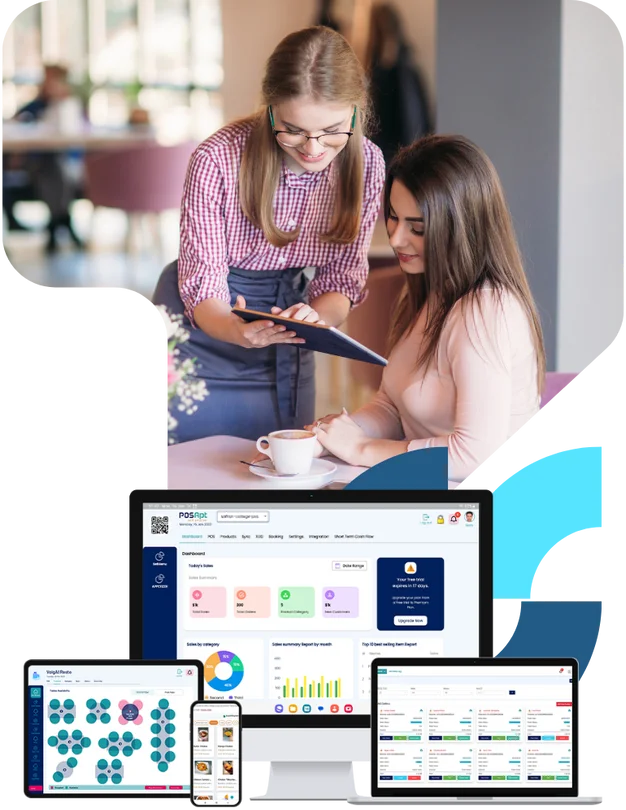 Tablet is fairly simple for everyone to use. When a POS system is introduced into it, this tablet should have a user-friendly interface that is easy to navigate and use.
The menu is customisable to fit your business needs, allowing you to add, remove, and edit items.
Tablet POS software support multiple payment options, including cash, credit/debit cards, mobile payments, and more. And, these payment options are secured with security features.
inventory management tracks stock levels, provides real-time updates, and alerts you when items are running low. You'll never have to send your customer away without what they came for.
With a tablet POS system, you're not tied down to a stationary cash register. You can take your device with you and conduct transactions on the go.
Tablet POS system tracks all transactions in real time, it offers detailed reporting and analytics. This allows you to track sales trends, inventory levels, and other key metrics.
5 Reasons How You Can Grow
Your Business with Our Tablet POS System
1
Cloud-Based POS
The best part about POSApt is that our system operates on cloud-based technology, allowing you to access your sales data and inventory information from anywhere, at any time.

2
Integration with Third-Party Apps
In many instances, businesses would want to integrate an online ordering system, accounting software such as Xero. And, POSApt supports all these integrations according to your necessity.
3
Cost-Effective
A tablet POS system is typically more cost effective than traditional cash registers or point-of-sale systems. The hardware is often cheaper, and many software providers offer flexible pricing plans, making it a more accessible option for small businesses.
4
Customer Management
Because POSApt keeps track of all the transactions and data in one centralised system, we are able to offer advanced customer management tools. This allows you to track customer data, preferences, and purchase history and offer personalised services for your customers.
5
Reliable Customer Support
We understand that our products and software might not be perfect in all scenarios. That's why, our dedicated customer support team is available to assist you with any questions or issues you may encounter, ensuring that your business operations run smoothly.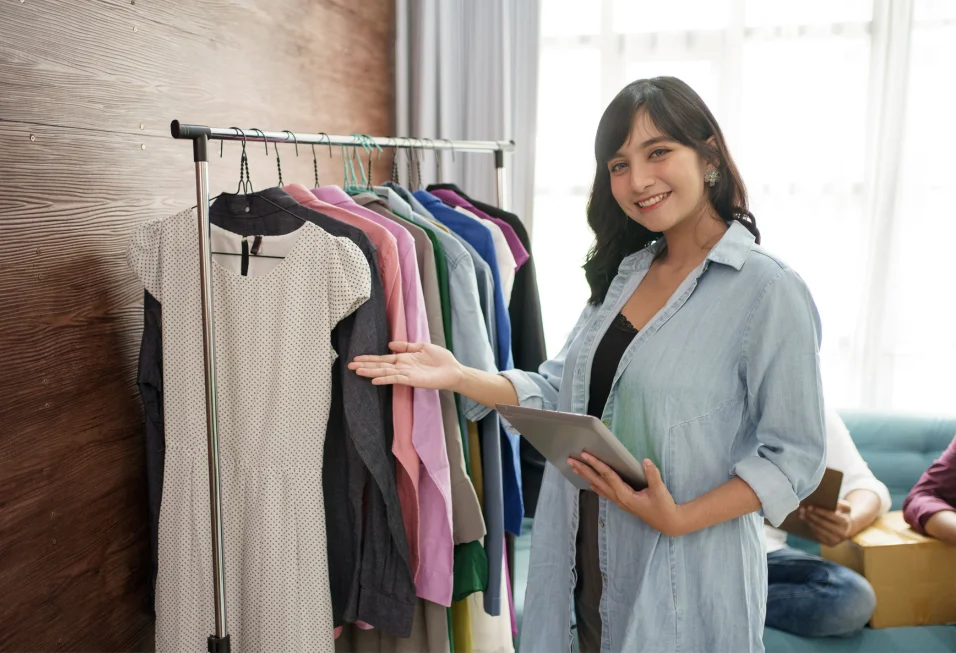 Frequently Asked Questions?
A table service point-of-sale system optimises and streamlines the operations of hospitality establishments. Some of the essential features of such a system include order processing, table management, and payment processing.
Firstly, Tablet POS systems are very cost-effective compared to traditional fixed POS systems. They require significantly less investment and are pretty easy to maintain. These systems also offer higher efficiency in tasks such as inventory management, order processing, and payment transactions, leading to faster and more accurate operations. And, tablet POS systems can also be easily integrated with various systems, such as sales, accounting analysis, loyalty programs, and CRM, offering businesses comprehensive and streamlined solutions.
In most cases, yes. If your POS system is cloud-based and offers a web-based application or a pc-based application that runs on your laptop, you should be able to use your laptop as a POS system. However, if none of the above-mentioned is available on your POS system, it might not be possible.
For most businesses, an Android tablet or iPad, a card reader and the installation of the POS software would be sufficient. Additional hardware such as receipt printers, tablet stands, and cash drawers may be required as per your business's needs.
Yes, most payment processors can be integrated directly into your tablet POS system. You can usually manage payment methods and select the ones you want to accept.
Setting up a tablet POS system is fairly simple and can be done by most individuals. However, here at POSApt, we offer free setup services with a hands-on training session to help you get the most out of your Tablet POS system.