Don't Worry, Our Candy Store POS Solution Include Everything You Need
Free Consultation
Products Upload
Set Up, User Training
Friendly Customer Services
Custom Website and Maintenance
No matter the size of your candy store, POSApt can take care of it all. Whether you have a retail store or a large chain of chocolate factories, manage them all with one platform.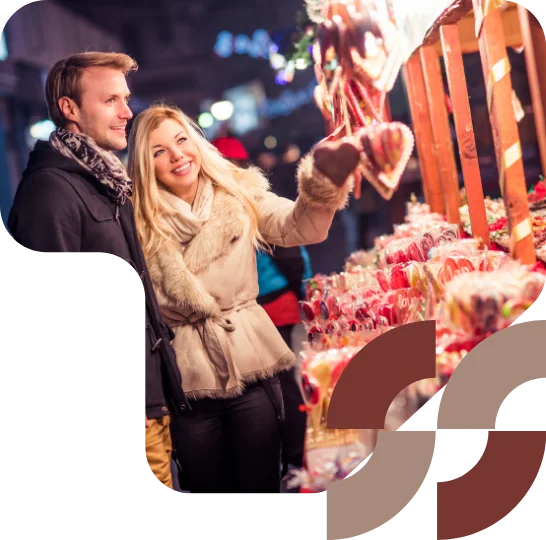 A Modern POS Solution for Candy Stores
Whether your top-selling chocolates are Feastables or the classic Hershey's, it can be tough to manage your store by yourself. Delicious treats are the star of the show but there's no denying the role that modern technology plays in these stores.
Today's competitive market calls for modern tools such as cloud-based Candy Store Point of Sale system in order to succeed. This system not only streamlines operations but also significantly increases sales and customer satisfaction. From managing inventory to accepting payment from various methods, it empowers your candy store with advanced capabilities.
Give your candy store a boost with a free 30-day trial with POSApt. Get all the hardware and software tools professionally set up for a smooth start.
Solving Australian POS Needs for Candy Shops
Keep your sweet customers wanting more of your candy by improving how your store does business.

Inventory Management
Effortlessly manage your chocolate reserves in the inventory and receive alerts when items are running low.
Sell Online with no hassle
Extend your candy store's reach by integrating an e-commerce platform seamlessly with your existing POS system.

Integration with Xero
Get your sales and transaction data directly synced up with your accounting software Xero with our powerful integration feature.

Multi-Language Support
Serve customers from diverse backgrounds with the ability to switch between multiple languages within the POSApt app.

Multiple Payment Methods
Be able to accept cash, credit cards or other ways of payment methods that your customers want to use.

Customer Relationship Management
Build and nurture customer relationships with features like gift cards and loyalty points.
User Friendly Integrated
E-commerce for Candy Stores
E-commerce integration can enhance order fulfilment and improve efficiency, ultimately leading to quicker order processing and increased customer satisfaction.
E-commerce Integration to POS
Seamlessly connect and sync data between your online and offline operations without disrupting inventory, orders, or finances.

Mobile App
Manage your chocolate empire through your smartphone with our mobile app. Access real-time insights and performance of your store from anywhere.

Real-Time Sales Reports
Generate and download real-time sales reports in multiple formats to gain insights and make informed decisions to stay competitive.
5 Reasons to Choose
Our Candy Store POS System
1
Sell More Online & Offline
Our POS and e-commerce solution allows you to manage both your physical store and online store through one single application. You don't have to switch between apps or add products twice.
2
24/7 Customer Support
We understand that even a short downtime can significantly affect your business performance. So, we offer exceptional customer support at $0 for all our clients.
3
Support for Franchise Businesses
Whether you have one candy store or many, you can manage them all through POSApt. Just add all your candy stores in the system and you are good to go.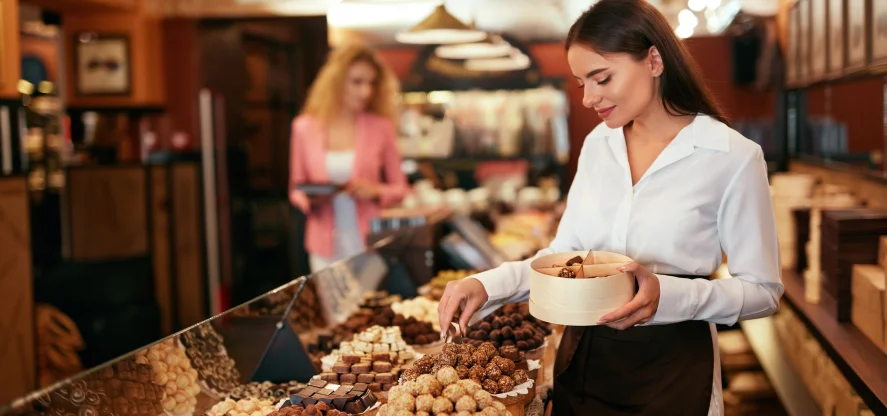 4
Multi-Platform Compatibility
Whether you want to use POSApt on your phone, tablet or laptop, you can. Our Candy Store POS system works on various platforms, offering flexibility to you and your staff.
5
Old Hardware Support
Unlike other POS providers who force you to buy their proprietary hardware components in order to use their software, POSApt works with your existing hardware.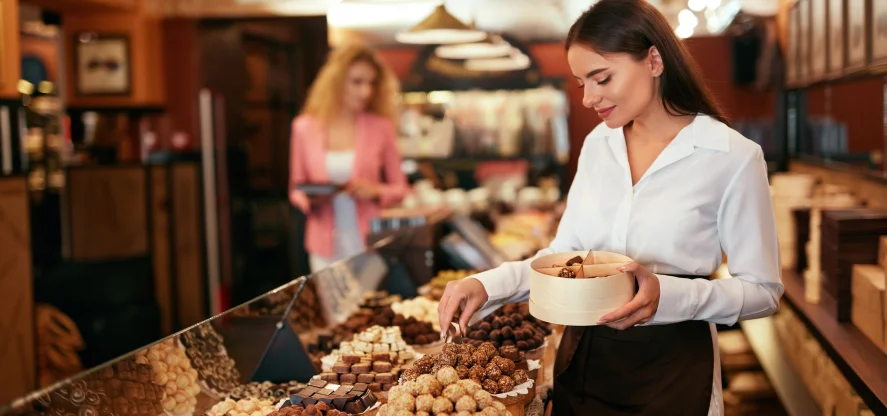 Frequently Asked Questions?
A Candy Store Point of Sale system is a specialised software designed for candy and sweet treat retailers. It centralises tasks like inventory management, sales, customer interactions, and more to streamline operations.
Our Candy POS system costs $99, and our e-commerce solution is priced at $199. However, the price may vary depending on additional or advanced features that your business may need. Learn more about our
pricing plan
and the benefits that come with them.
Integrating your e-commerce system with our POS is easy. Visit the 'Integration' tab on your panel or reach out to us at info@posapt.au or 03 8802 4468 for no-cost integration assistance.
POSApt is the best POS system for Candy and Chocolate stores in Australia. We offer an amazing set of features and benefits at an affordable price.