Don't Worry, Our QSR POS Solution Include Everything You Need
Free Consultation
Products Upload
Set Up, User Training
Friendly Customer Services
Custom Website and Maintenance
Selling made quicker. Serve your cuisines faster than ever before with an advanced QSR-based POS solution. From fast ordering to fast serving, our pos system handles it all. Try it for free!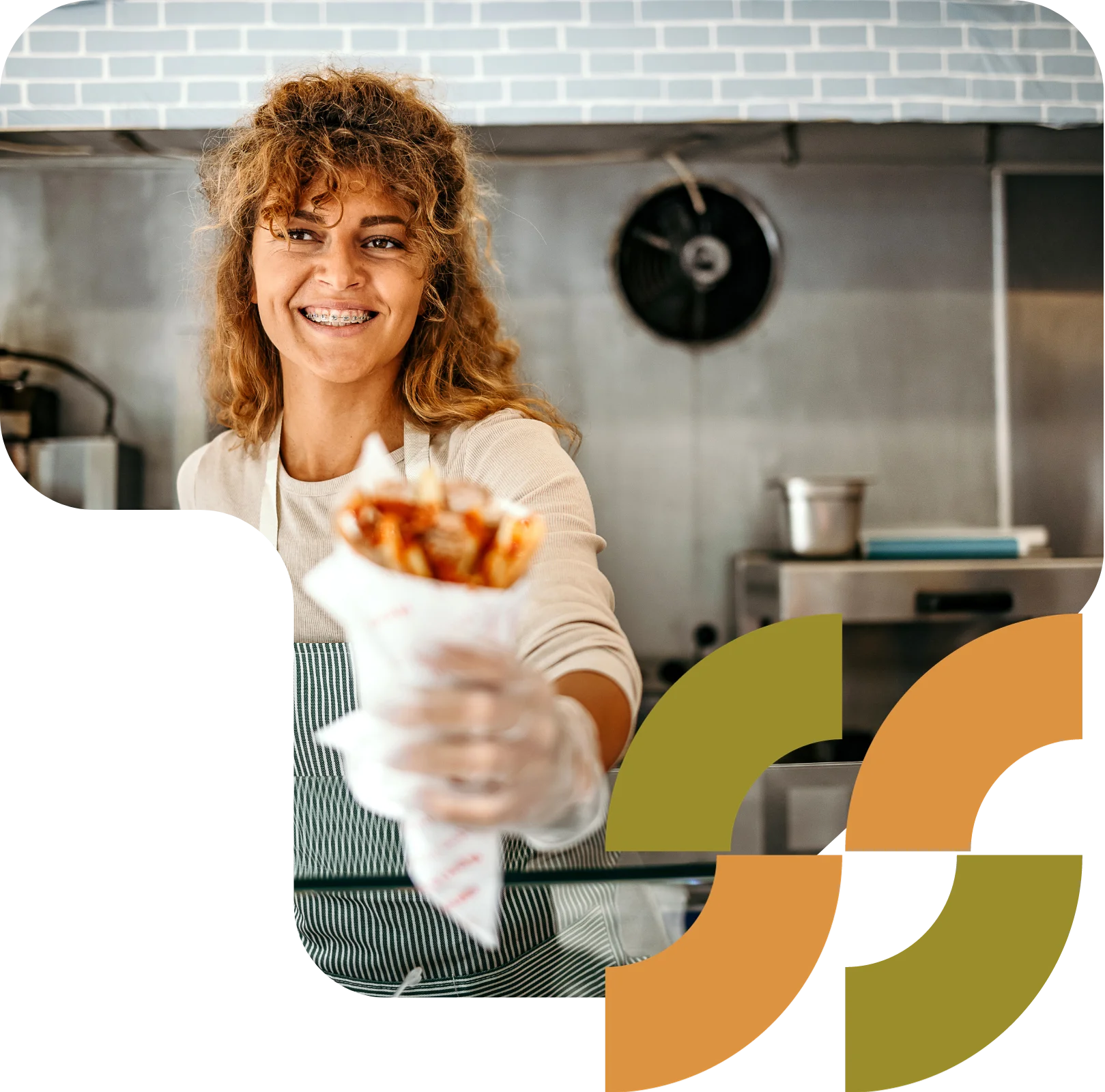 Point of Sale System for
Quick Service Restaurants (QSRs) Across Australia
Quick Service Restaurants (QSRs) and fast food chains are ever-evolving with a mix of challenges and opportunities at every turn. But no matter how much things change, the competition only grows tougher.
To help your QSR business thrive in all of this, what you need is a QSR point of sale (POS) system. It helps your fast food chains take orders smoothly and keep track of everything in stock. It essentially makes your QSR run better and customers happier.
A feature-rich POS system not only facilitates smooth transactions but also integrates with delivery platforms, optimising order flow from multiple sources. It empowers you to adapt to changing customer demands and keep your menu always new and fresh.
And it can do even more! It gives you real-time data analytics so that you know exactly how well your products are performing. Plus, it can help keep customers coming back by integrating loyalty programs or special promotional offers.
And guess what? You can give all these features a try for absolutely free with POSApt. Just sign up and try our QSR POS System for the first 30 days at $0.
Fast Order Entry
Streamline the order-taking process with quick and efficient order-entry features with POSApt. Shorter wait times result in happier customers.

Tableside Ordering
Take orders beside the table and send them directly to the kitchen to reduce errors and wait times for customers.
Inventory Control
Keep track of inventory levels in real-time and receive alerts when ingredients are running low or need restocking.
Multi-Location Management
Whether you have just one QSR or multiple in different locations, our POS system can manage the business operations for all.

Multi-Payment Options
Give your customers multiple options to choose from when it comes to paying for their meals at your quick-service restaurants.

QR Ordering System
Allow your customers to browse through your menu and order directly from their smartphone just by scanning the QR on their table.
User Friendly Integrated
Online Ordering System for QSR
Online ordering systems can streamline the order fulfilment process, reducing the likelihood of errors and improving efficiency. This can lead to quicker order processing and improved customer satisfaction.
Customisable Menu
Food orders sometimes need to be customised for health reasons or preferences. Make it possible to customise orders with our system.
Order Pending Notification
Customers hate late service, especially in QSRs where the name itself spells 'quick'. So, don't miss an order with our order pending notifications.

Loyalty Program
Implement a loyalty program and incentivise being loyal to your QSR with special discounts or special meals that your customers will love.
8 Reasons How You Can Grow Your Business with Our
QSR POS System
1
Intelligent Customer Relationship Management (CRM)
Content customers are the ones who become regular patrons. Often, contented customers act as informal promoters, attracting more business to your establishment through word-of-mouth. With POSApt, you can leverage tools such as loyalty points and gift cards to encourage customers to come again. You can also leverage customer details to run targeted marketing campaigns.
2
Customise Your Menu To Current Trends
Fast food trends change frequently. And if you want to keep your sales high every day, your menu should adapt accordingly. Our system offers you to easily modify your menu items. Moreover, it also allows customers to make customisations to their orders with toppings, modifiers, and sides. This ensures precision and adaptability in every order you fulfil.
3
Acceptance of Various Payment Methods
Our QSR POS grants your customers the convenience of paying through various means: cash, debit cards, credit cards, and other online platforms. This not only helps customers monitor their expenses but also enables restaurants to maintain accurate records of customers, their orders, and expenditures.
4
Fast & Easy Order Management
As the name of the business suggests, quick service restaurants and fast-food chains have an obligation to serve customers as quickly as possible. That is why POSApt's QSR POS system offers fast and easy order management thanks to its intuitive structure and easy to use interface.
5
Swift Order Processing
What good is a fast food joint that doesn't even process an order fast enough, right? A quick solution, such as rapid order processing facilitated by a POS system, makes your QSR the talk of the town. It also mitigates the frustration of prolonged queues for order placement. Consequently, your customers grow happier alongside your sales.
6
Manage Inventory in Real Time
With orders that need to be fulfilled at the moment, QSRs need to manage their inventory very frequently. POSApt empowers you to monitor your inventory in real-time. This capability enables you to efficiently handle stock levels, avoid stockouts, and streamline your procurement and restocking procedures.
7
Smooth Transaction Management
Experiencing the steady rhythm of transactions on the billing machine is truly satisfying. QSRs cater to a significant influx of customers and their diverse orders. As a result, a resilient and user-friendly QSR POS system like POSApt is indispensable. Effortless transaction management facilitates accurate orders and seamless payments.
8
Efficient Multi-Channel Order Handling
POSApt enables you to seamlessly accept online orders from various channels concurrently. This includes your website, mobile application, as well as popular third-party delivery platforms like DoorDash and Uber Eats. Manage all orders from one single platform without having to switch between apps constantly.
Frequently Asked Questions?
As the name itself suggests, a QSR POS is a point-of-sale solution for quick-service restaurants. It streamlines and optimises tasks such as order processing, inventory control, and accepting payments.
Once you have subscribed to one of our plans, our technical team will get in touch with you. The team will discuss all the requirements before the setup. Then, we set up our QSR POS at your establishment and give you hands-on training on how to use it.
If you're looking for an ideal POS system for your Quick Service Restaurant, we've got the perfect solution for you. POSApt includes features best fit for QSRs and also has an integrated online ordering platform to sell online
POSApt starts at just $66 per month and encompasses all the essential features you need to manage your quick-service restaurant. To know more check out our
pricing plan
pricing plan.
As mentioned above, we also have an online ordering system that can be easily integrated into our QSR POS system. This integration allows you to effortlessly handle both online and in-store orders, inventory, payment, and more. We also assign you a dedicated technical support expert to help you integrate your POS to online ordering or vice-versa.