Don't Worry, Our Liquor Store POS Solution Include Everything You Need
Free Consultation
Product Upload
Set Up, User Training
Friendly Customer Services
Custom Website and Maintenance
Whether your liquor store needs a system that can manage orders and inventory or take care of your online store, POSApt can handle both. Our system seamlessly combines both POS and E-commerce to help you streamline in-store and online sales effortlessly. Manage your business with efficiency and consistency across all channels.
POS System Specialised For Liquor Stores
Running a liquor store can get quite tricky at times. Sometimes you might get overwhelmed by a caboodle of customers, not just delaying the whole sales process but also dwindling your stock. Ultimately, the manual process of handling the cash register, tracking sales, and keeping tabs on the stock can only take you so far.
If you're looking to grow your liquor store, a food & beverage POS system is a must-have. With the help of online POS software for bottle stores, your sales during rush hour will skyrocket. It keeps every sale recorded and lets you know whenever your stock is running low.
Not just with your physical store but if you have an e-commerce website, a POS system software can take care of both. Moreover, it will let you manage both your offline and online store from one robust POS Solution.
Find the Best POS Solution For Your Bottle Shop
Let a smart POS system deal with tedious and time-consuming tasks. Manage orders, calculate bills and track inventory with POSApt.
Low Stock Alert
Keep track of all your stock items and be notified whenever each item in your stock is running low.
Gift cards, Vouchers & Loyalty Program
Drive your liquor sales higher with the help of POSApt's Gift cards, vouchers and loyalty programs.

Handy Sales Report & Trends
Get handy reports that depict your daily, weekly or monthly performance and deal with the market trend.

Integration with Xero
Take control of your store's finances directly from your POS system with seamless integration with Xero.
Real-Time Updates
Access real-time updates of KPIs such as top-selling products and daily sales displayed right on your dashboard.

Split Payments
Give your group of customers looking to split the bill between themselves the option to pay separately for their booze.
---
Simplify your store's operations by consolidating both in-store and online orders within one platform. Our Liquor Store POS system can seamlessly integrate with the e-commerce platform, making it easier to manage orders, sales, and payments.
Make your Liquor Store POS and online ordering system more accessible by choosing your preferred language in the settings. This feature ensures that both your staff and customers can comfortably navigate and utilise the system in their preferred language.
Efficiently manage your store's inventory using our system's robust inventory management features. Keep track of product quantities, receive automated alerts for low stock levels, and ensure you always have the necessary wines, spirits, and beverages in stock to fulfil orders.
User Friendly
E-Commerce System for Winery, Liquor Shop
POSApt's E-Commerce for liquor shops can enhance the online shopping experience for your customers. Deliver beverages at their doorstep.
Product Management
Simplify the management of your liquor store, wine shop, or beverage store with our extensive product inventory.

Mobile App
Monitor the performance of your store on the go with our mobile app. Access sales, inventory, and customer data anytime, anywhere.
Multiple Payment Options
Provide your customers with multiple payment options including cash and credit card, ensuring a convenient shopping experience.
Why Choose
POSApt's Bottle Shop POS System?
1
Managed Orders
The system allows for quick and accurate order entry, reducing errors and improving efficiency. It streamlines the process of taking orders, sending them to the kitchen or bar, and generating receipts, enabling smoother operations and faster service.
2
Easier & Safer Billing And Payments
With a bottle shop POS system, you can easily calculate bills, split checks and apply for discounts or promotions. Moreover, you can process various payment types, including cash, credit/debit cards, and mobile wallets. The system ensures accurate calculations, reduces errors, and expedites the payment process, resulting in better customer service.
3
Efficient Inventory Management
The system accurately tracks and manages your inventory in real-time effectively. It helps in monitoring all the drinks you've got in stock and generating reports on popular or slow-moving ones. This information enables you to manage your stock and sell more of what's popular.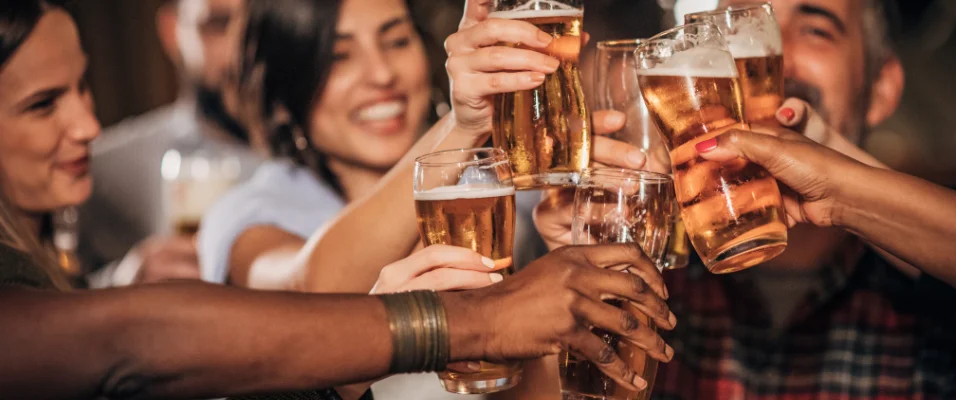 4
Top-Notch Customer Support
We being Australian POS provider, our customer support is best in class. Whether it is a hardware issue or a software, get support within minutes to solve it. Moreover, we do not charge any customer support fee so do not hesitate to call us.
5
Scalability And Flexibility
Unlike a physical register book, POSApt can grow with your business. Whether you operate a small bottle shop or a large liquor store with multiple locations, POSApt can accommodate your changing needs.
Frequently Asked Questions?
A POS (Point of Sale) system in the beverage industry refers to the hardware and software solution designed especially for bottle shop owners. It is used to facilitate sales transactions, manage inventory, and streamline operations in restaurants, cafes, bars, or other food and beverage establishments. It typically includes a combination of a computer or tablet, a receipt printer, a cash drawer, and software. The software allows businesses to process orders, manage inventory, generate reports, and handle payment transactions.
Order Management - When a customer makes an order, the staff members enter orders specifying the type of drink, size, customisation options, and any additional items. Once the order is placed, the system sends it to the bar or kitchen printer for preparation.
Payment Processing - When the customer is ready to pay, the system calculates the total bill, applies taxes, discounts or promotions, and processes the payment via cash, credit/debit cards, or other methods.
Inventory Management - The system automatically deducts items from the inventory when orders are placed, providing real-time visibility into stock levels and helping businesses manage their supply.
Reporting and Analytics - The system also generates reports on sales, inventory, and other key metrics. These reports enable you as a beverage shop owner or manager to make the right decision and take your business to profits.
POSApt's POS software costs $99 a month for the basic plan. Depending on your business size, the cost may vary. Check out our complete
pricing plan
to learn more.
To use our pos system, firstly, you have to subscribe to one of our plans. We are providing a 30-day free trial on the first sign-up. If you also need to set up a hardware system in your liquor store, call us and we will set it up for you. Moreover, we also provide a complete tutorial on how to use POSApt to the business owner and staff.
Send us an enquiry from our Enquire Now Page. One of our professionals will reach out to you within 24 hours to discuss the requirements. We will share an e-commerce website demo with you. Once you are happy with the pricing, we will create a customised liquor store for you. We will add all your beverages for absolutely free so that you can start selling almost instantly.